Approximate of the size of Singapore, Phuket is the largest island of Thailand. Known for its picturesque locations and alluring beaches, this Island has been known worldwide for ages as it is located on the routes between China and India.Phuket is connected to the main land of Thailand through 2 bridges. Situated 863 kilometres from the capital city of Thailand, Bangkok, this city is situated near to the equator. Having a very little variation in the temperature (25°C to 32°C), Phuket receives rainfall for 8 months, from April to November. Due to its peaceful environment and being in the lap of nature, Phuket has been voted one of the top 5 retirement destinations in the world.
The main Tourist Attractions in Phuket are described below :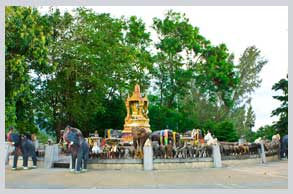 Laem Promthep
Can be termed as the best beach in the world to witness the Sun set, Laem Promthep is the southernmost point of Phuket. Usually the pictures of setting Sun in Thailand are snapped on this beach. Making beach perfect with the presence of a lighthouse, Kanchanapisek lighthouse, a 50 feet tall structure stands proudly at the Laem Promthep beach since 1996.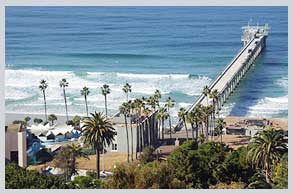 Marine Biological Research Centre
Also known by the name of Phuket Aquarium is known for displaying over a 100 Andaman Sea Marine Species. This research centre is situated on the end of Panwa Cape and works for the conservation of marine life.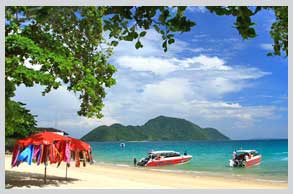 Laem Ka Beach
Perfect for the people who want to spend some time peacefully and in complete solitude, Laem Ka beach is situated to the southwest of Chalong Bay. As it has a very less number of visitors, this beach is quite clean and hence great for sunbathing purpose.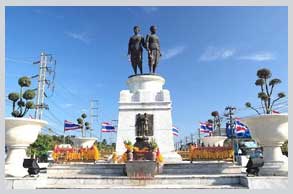 Two Heroines Monument
The statues of two ladies,Thao Thep Kasattri and Thao Sri Sunthon are known as the Two Heroine Monument. These sisters repelled Burmese invaders and hence awarded by the King Rama I. This monument is given respect by offering flowers and is believed to bring good luck.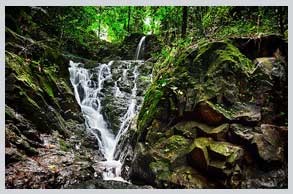 KhaoPhraThaeo
The main sources of freshwater to the island of Phuket are originating here, the two waterfalls Bang Pae and Ton Sai attract the tourists with their serene beauty. KhaoPhraThaeo can be termed as the best rainforest in the whole Thailand with rare flora and fauna like White Back Palm, boars and tropical gibbons respectively.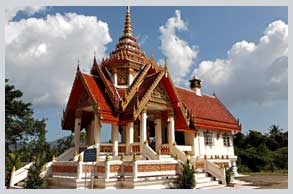 WatPhra Thong :
The main attraction of this Buddhist temple is the upper half statue of Lord Buddha which is believed to be emerged from the ground. The folk tales describe that this statue can't be completely extracted from the ground and this statue is named Luang Po PhtaPhut.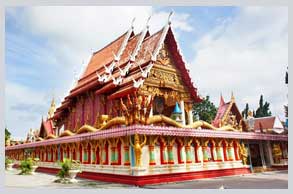 WatPhra Nang Sang
Built by an innocent queen who received a death sentence for a rumor that she had an affair with someone, this temple's name means "A lady with White Blood" (white blood presenting her innocence). This temple is famous for having the three oldest statues of Buddha in the world which were made using tin.