Hua Hin is a beach resort town which is situated on the Northern Malay Peninsula.Being a favourite place of the King Rama VII, this place was chosen for his summer palace. And by then, this place is being loved by the Kings and the Princes for the serene beauty. The city of Hua Hin has quite hot temperature round the year as it has a Tropical Savannah Climate. The average temperature varies from 29°C to 32°C and the lowest goes maximum to 22°C. While Hua Hin remains on the list of many a tourists, the main Tourist Attractions of Hua Hin are as follow: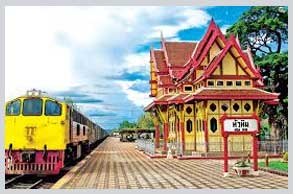 Hua Hin Railway Station
Can be termed as the most beautiful railway station in the whole of the Thailand, Hua Hin Railway Station has its main structure made up of wood. As this station was mainly made for welcoming the King, it has a royal waiting room worth visiting. Earlier the very structure was being used as a Royal Pavilion which was later transported to Hua Hin in 1968.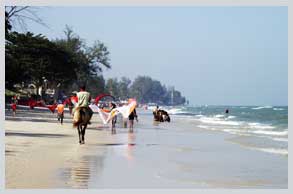 Hua Hin Beach
A long beautiful beach along with a temple, doesn't it sounds like a fairy tale being recited? Well, Hua Hin beach is then a fairy tale come true, a 6 kilometres long alluring beach with a Buddhist temple and rounded cliffs, quite mystifying and attracting the tourists across the globe.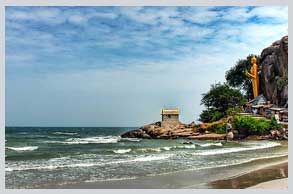 Takiap Hill
What could be more calming than a sea, a hill with a temple and a mesmeric view from the hilltop? If this is what one wishes for, Takiap hill is one such a place with a temple, along with a few monkeys. The view of Hua Hin and the Hua Hin bay are breath-taking from this hill.
accommodations required.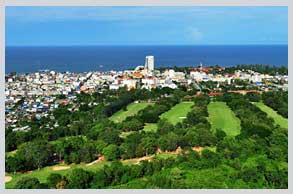 Khao Hin Lek Fai
Located 3 kilometre from the Hua Hin town, Khao Hin Lek Fai is one of the best areas to have magnificent views of the town. With a few parks, view points, food stalls and a statue of King Rama VII is what one can find here. This place is known for witnessing the most beautiful sunsets.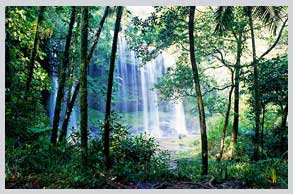 Pala-U Waterfall
One of the largest waterfalls in the Thailand, the Pala-U is a 16 stepwaterfall. Merely 60 kilometres from Hua Hin, this waterfall is situated in the KaengKrachan National Park. For the people who reach the top of this waterfall has a reward, an amazing view of Thailand. While this waterfall has many stages, the third one is considered to be the best as it has a pool where people spend time. This waterfall gives fresh and cool water throughout the year and is surrounded by a 1000 year old forest.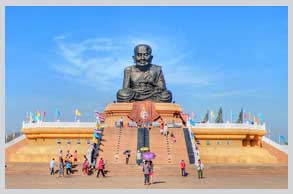 WatHuayMongkol
Having the largest statue of the legendary Thai Monk, LuangPhorThuad, WatHuayMongkol is one of the important Buddhist temples of Thailand. The amulets made in this monk's image is believed to help in time of troubles. This statue is famed for miracles and sits in the meditating pose.