Situated in the Western part of the Thailand, Kanchanaburi is a small town with the very important role in the historic events. Established by the King Rama I by the end of nineteenth century CE, this town has been attracting the tourists all over the world for the events that have taken place here. Also known for the birthplace of the famous Buddhist Monk Phrabhavanaviriyakhun, Kanchanaburi is around 112 kilometres from Bangkok. The average high temperature of this town varies from 33 °C to 38.2 °C and the average low varies from 20 °C to 23 °C. Having a tropical Savannah climate, Kanchanaburi has a 5 month rainy season, from May to October.
While this city holds historical importance, the main Tourist Attractions in Kanchanaburi are listed below :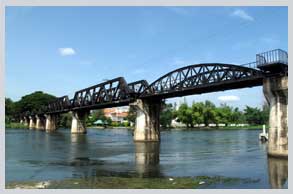 River Kwai Bridge
One of the most famous spots to visit and witness the acts done in the World War II, bridge over the Kwai River was built by the Prisoners of War and Asians during the WW II. A part of the infamous Death Railway to Burma, this bridge bears the efforts of all the prisoners of war captured by the Japanese. Most of the workers of this bridge died during construction due to accidents, diseases and maltreatment. This bridge can be crossed through a steel walkway and can be accessed through the trains too.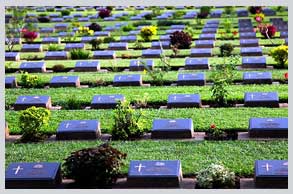 Kanchanaburi War Cemetery
over 7000 of the prisoners of war who lost their lives while constructing the Death Railway to Burma rest here peacefully. As truly said, "Only the dead have seen the end of War", they indeed witnessed the end while being forced to build this railway. Properly maintained to respect the dead, this cemetery is usually closed in rainy seasons for preventing the damage on the ground.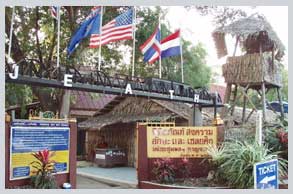 JEATH War Museum
JEATH stands for Japan, England, America, Australia, Thailand and Holland, this name defines the nationalities of the Prisoners of War of WW2. This museum's main attraction are the bamboo hut replicas of the actual huts in which the POWs were forced to live while the construction of Death Railway was in progress. Along with these huts, this museum holds the pictures and real accounts by the POWs, their families and Thai people.
accommodations required.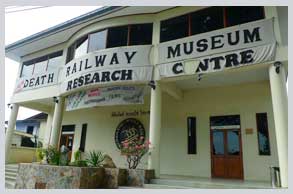 Thailand-Burma Railway Centre
To know the actual atrocities put upon the POWS in the World War 2, there is no place better than Thailand-Burma Railway Centre. Representing the history of a 415 kilometres long railway line from Thailand to Burma, this museum depicts the cruelty of the Japanese forces over the prisoners. This museum has different sections describing the story of the construction of this Death Railway.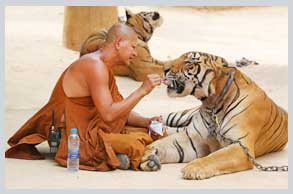 WatPhaLuang
WatPhaLuang or the Tiger Temple is a Buddhist forest temple which also serves as a wild life sanctuary. Founded in the year 194, this temple has Indochinese tigers and is situated 38 kilometres from Kanchanaburi town. Here tigers can be seen roaming along with monks freely and can be witnessed in their natural habitat.