The word Sukhothai stands for "The Dawn of Happiness". Sukhothai is a city with great historic importance as it is situated near to the ruin of ancient capital of Thailand, Sukhothai, which used to be the Thai Capital in the 13th Century CE. This city is located in north of the Bangkok, nearly 428 kilometres from it.The climatic conditions are quite moderate and somewhat cool from November to February. The ancient city of Sukhothai is situated 12 kilometres from the main city if Sukhothai in the west.
Finding the main Tourist Attractions in Sukhothai, the list is given below along with descriptions :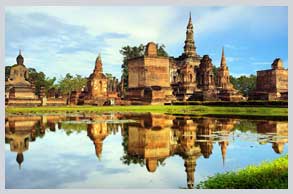 Old Sukhothai City
Also known by the name of Sukhothai Historical Park, this city used to be the capital of ancient Siam. This park still have the remains of homes, temples and palaces of that era. The major attractions of this historic city include Wat Si Chum and Wat Mahathat, representing the magnificent history of the ancient Siam.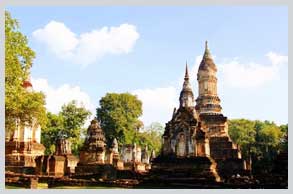 Wat Chedi Jet Taew
this temple is believed to contain the bones of the royal family of Prince Damrongjanuphap in the ancient Siam period. The name of this temple is based upon the set of 7 chedi which are designed in different styles. Also, this temple has alluring lotus shaped chedi and 33 secondary chedi.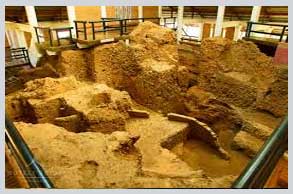 Celadon Kiln Site and Conservation Centre
A site of the ancient city, the Celadon Kiln Site was discovered with pots and wares in perfect condition from the Ancient Siam period. This centre offers the exhibition of these pots, ceramic wares and several other artefacts from that period.
King Ramakhamhaeng the Great Monument
Great place to know about the history of ancient Sukhothai and Siam, this site offer lessons about the historic structures and models of the ancient times.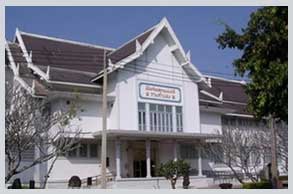 Ramakhamhaeng Museum
Reflecting the stories and culture of Siam, the Ramakhamhaeng Museum displays the antiques and artefacts which have been found in the excavation of Sukhothai and Si Satchanalai. This museum also displays Chinese displays and artefacts of the Siam period, reflecting the prosperity along with very beautiful Buddha images of Sukhothai style which is known to be one of the most alluring styles of Thai history.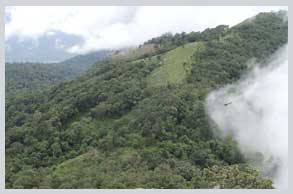 Ramakhamhaeng National Park
This national park holds a very important historical value due to the fact that a number of artefacts like tools and relics of the ancient Siam period. Apart from the relics, this national park is famous for its waterfalls, flora and fauna. This place is a complete tour for nature lovers, theologians and historians.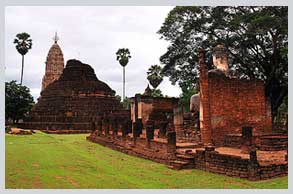 Si Satchanalai Historical Park
One of the most important tourist spots of Sukhothai, the Si Satchanalai Historical Park is the historical site of what used to be the second major city after the Sukhothai in the ancient Siam period. This site has ancient homes, palaces and temples of that period, reflecting the architectural style of that era.