The second largest Island of Thailand after Phuket, Koh Samui or Ko Samui is situated on the eastern coast of Kra Isthmus. One of the most visited spots of Thailand, Koh Samui is a mesmeric island with coconut trees and white beaches. While this island has been inhabited for centuries, the Island's economy depends upon tourism and coconut & rubber export. The climatic conditions of this island are quite warm and humid, displaying a tropical monsoon climate. The average temperature varies from 24 °C to 32.5 °C round the year.

Surpassing Phuket in tourism, Ko Samui holds the second rank in tourism in Thailand after Bangkok. The main Tourist Attractions in Samui are described below: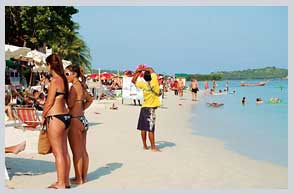 Chaweng Beach
The most famous beach of the Koh Samui Island, Chaweng is the busiest beach. With the provision of all the accommodations like hotels, restaurants, pubs, bars and an amazing life, this beach attracts the fun loving tourists across the globe to party.Nearly 3 kilometre long stretch of sandy beach, Chaweng Beach is a heaven for party lovers.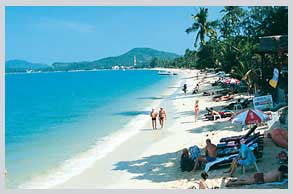 Lamai Beach
The second busiest and famous beach after the Chaweng Beach, Lamai beach is slightly lesser crowded and a bit more decent than the former beach. One can find it more peaceful without compromising on the accommodations, spas, dining and shopping. In addition to it, the facilities provided on this beach are less costly than those provided on the Chaweng Beach.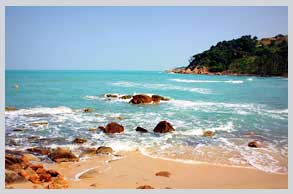 Bophut Beach
Quite different from the Chaweng and Lamai beaches, the Bophut Beach is the starting point for the diving tours. One can also visit the Fisherman's village located in the middle of the Bophut Beach. Preserving the essence of original Thai-Chinese atmosphere, this village is lined by old wooded Chinese shop houses.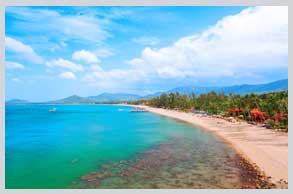 Mae Nam Beach
If someone is looking for a perfect place for having a peaceful sunbath without any crowd and noises, the Mae Nam Beach is the answer. Ideal for sunbathing due to less crowd, this beach has shallow water, hence perfect for swimming too. Can be visited with family and children for having a quality time.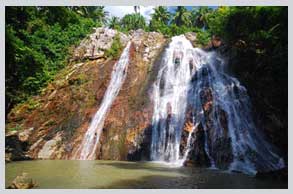 Namtok Na Muang
Surrounded with alluring violet stones, Namtok is a set of 2 cascades on the island of Koh Samui. Known by the names Na Muang 1 and 2, both the falls exhibit breath-taking view and a quick relief from the temperature. The name Na Muang means "The Purple Waterfall" which is due to the magnificent violet stones covering the waterfalls. This place is visited for swimming, picnic, hiking and a bit of Safari as between the two falls is situated the Na Muang Safari Park.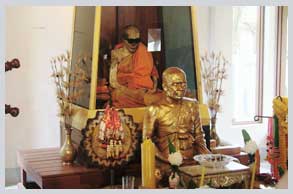 WatKhunaramKo Samui
The WatKhunaram Ko Samui is known for displaying the Mummified body of a monk. This mummy of the former abbot cum meditation master makes this temple the most important temple on the island of Koh Samui.