Situated on the west coasts of the Southern Thailand, Krabi is one of the major tourist spots in Thailand. This town is next to the Krabi River, which ends up in the Phang Nga Bay. Krabi is at a distance of 820 kilometres from the capital city, Bangkok. What makes this place a major tourist attraction is the set of islands named Archipelagos that are more than 130 in number. As this town is near to the Andaman Sea, receives rainfall for days in monsoon and has a rainy season from May to November.
The major Tourist Attractions in Krabi are listed below :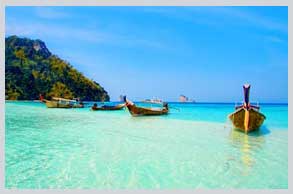 Ao Nang
A perfect beach to spend time with the family in peace, the Ao Nang beach is one of the most peaceful, clean and scenic beaches. With clear blue water, white sandy beach and least crowd, Ao Nang is also a place for adventures like snorkelling, island hopping, kayaking, hiking, white water rafting and climbing. With 2 nightclubs, a few spas, massage parlours and luxurious hotels, this beach offers all the accommodation, dining and other needs.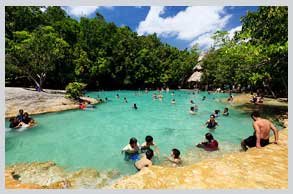 Emerald Pool
For getting awed by the magic of nature's beauty, Emerald place is a place to be visited. This pool originates from the KhaoNorJuji Forests which is Thailand's last lush forest. What makes this pool amazing is the dazzling turquoise steam spectrums coming out of the hot water of this spring. These spectrums shift in accordance with the light, time and angle of vision. For having the best of the views, the perfect time to visit the Emerald Pool is in the morning by Dawn.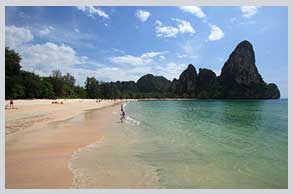 Hat rai Le Beach
Usually misunderstood as an Island, Hat Rai Le beach is one of the most beautiful beaches in Thailand covered by a row of steep hills, which cuts it off from the main land. This beach can be only reached through boats and actually covers three magnificent beaches in it. Railay East beach is known for amazing sunrise scenes, in the middle is the Pharanang Beach which is famous for the sacred Buddha Image in a cave. Also, Phranang Beach is a great beach for swimming as it has shallow, crystal clear water. The Railay West Beach is the most popular for having shallow water and white sand along with beach bars, resorts and restaurants.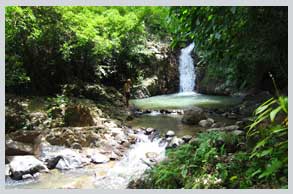 KhaoPhanomBencha National Park
With having the animals like Fishing cats, Asian Tapirs, Asiatic Black Bears, Hornbills, Woodpeckers and many more, the KhaoPhanomBencha National Park are a part of Krabi that still remains quite untouched to mechanization. Surrounded by streams, waterfalls and caves, this national park is situated at the highest altitude of Krabi. The major waterfalls are Huay To, having 5 cascades, Huay Sade, having 3 cascades which end up in2 different canals. This place is visited for trekking and camping by adventurers across the globe.