The Railey beach of Krabi is known for its stunningly beautiful view, wonderfully calm water and attractive way to reach. One of the special parts about this beach is that, while being a part of Krabi, it cannot be reached directly. One has to take a ferry to reach the Railey beach as it is covered with Limestone Mountains from all the sides. This Railey Beach Guide discusses about all the aspects of this grand beach.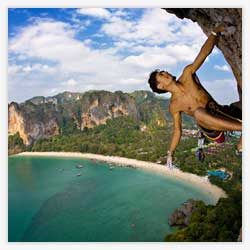 Adventure Seeking :
Railey beach is a perfect place for those who have a thing for adventure and somewhat dangerous sports. One of the unique sports on a beach, this beach offers Rock climbing and trekking on the majestic Limestone Mountains. Kayaking is another best thing which can be done at this beach, where one can reach into the caves and a private beach of Ko Poda. This beach also offers snorkelling as well as diving and is very safe, but the coral reefs are not that vast here.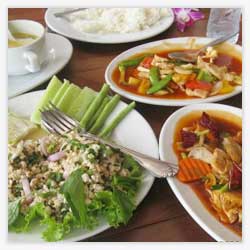 Food :
Although every beach has a novelty of different types of cuisines to be tried, the Railey Beach has very limited yet tasty and quite cost efficient eating options. But the best part about this beach is that the restaurants situated on the east beach have one thing in common, a splendid view! The restaurants on the west Railey beach are not having much interesting view. One can visit a number of restaurants for either a bite or meals like Railay Bay Resort and Spa Restaurant, Flame Tree Restaurant, Yam Yam and Utopia Restaurant.
Shopping :
As this beach is situated apart from the mainland, the supplies are "imported" through the sea, hence they cost a bit more and are limited. Still, one can shop for beach wear, clothes and souvenirs can be bought from this beach. Also, one can find ATMs situated nearby the resorts and hotels.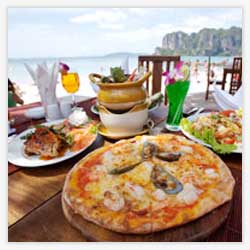 Accommodation :
A perfect beach to spend to spend a day or two, for the purpose of accommodation, the Railey Beach offers a number of options for all the budget types, whether low, medium or high. For low budgets, one can check out Railay Cabana Bungalows on the East Railey Beach. For the medium or average budget, there are a several options like Diamond Private Resort, Railei Beach Club, Anyavee Railay and Diamond Cave Resort. For enjoying the luxuries, one can stay at Rayavadee or Bhu Nga Thani Resort, which may cost quite a bit.