Tourists who visit Bangkok find a lot more than they have expected and of course they keep them busy for more time to come. For tourists who are on their trip to Bangkok and those who have visited the main attractions, need a more day to explore floating markets in which boats are used aou will find locals shops and piled high with tropical fruit and vegetables along with fresh, ready to drink coconut juice and local food cooked from floating kitchens located right on the boat. There are different markets where you will find pure and fresh fruits along with vegetables and local items. You don't have to haggling over price; while don't miss the chance of trying relaxing on a guided boat tour of Damnoen Daduak Market. Some of the famous floating markets in Bangkok are Taling Chan Market, Bang Ku Wiang Market, Tha Kha, and Damnoen Saduak
Some of the most popular floating markets are the following.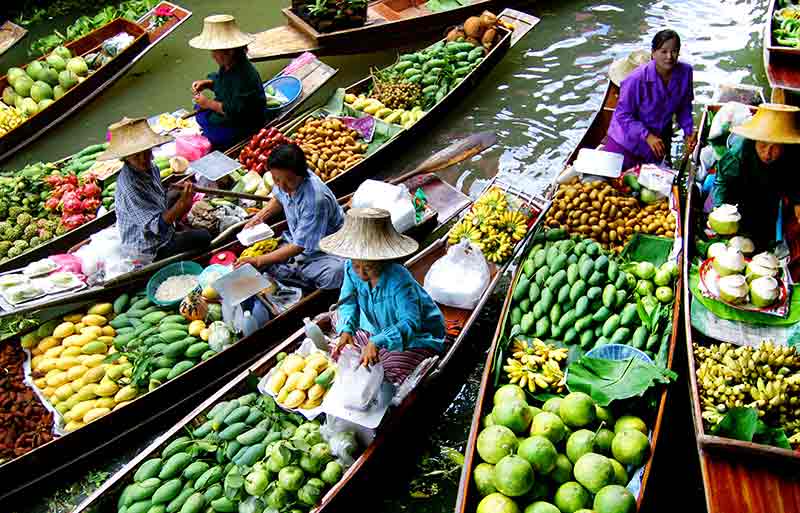 Khlong Lat Mayom Floating Market
The beautiful market is one of the most popular three floating markets close to Bangkok that really the charm and authenticity of a local market.
Damneon Floating Market
It is another most popular floating market in Thailand that is counted as ideal for photo opportunities, food and to give you an insight into a bygone way of life. It is worthwhile to explore it in early morning.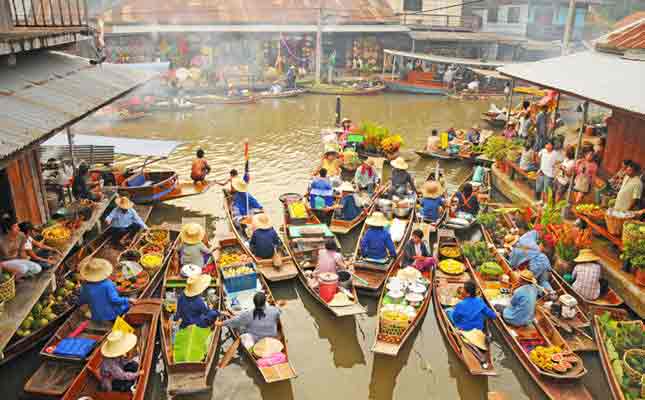 Amphawa Floating Market
Second most popular floating market near Bangkok, It is also a must see market. However, it is not as large as Damneon Saduak, but more authentic with visitors almost exclusively Thai. On this wonderful market, many of the houses are lining the canals that are doubling as shops, restaurants, vendors and sellers selling homemade food and pastries in the canal to the crowd sitting on the narrow concrete steps of the riverbanks.
Don't miss to enjoy local food in few restaurants near the crossing bridge that have tables but at the end of the afternoon; availing seat is next to impossible. Here, a number of bars are managed to have little balconies that are overlooking the canal but here too seats are hardly to found after afternoon. Weekends go full here as all the little streets radiating from the canal are converted into local food market, selling from classic Pad-Thai to things as unusual as ice-cream sandwiches, horse shoe crab eggs salad, classic Pad-Thai to a variety of unusual things. You will also find a number of longtail boats taking tourists around the nearby klongs for a bit of exploration. You can also try to come early to avoid the crowd that can easily become as overwhelming as it spoils the fun.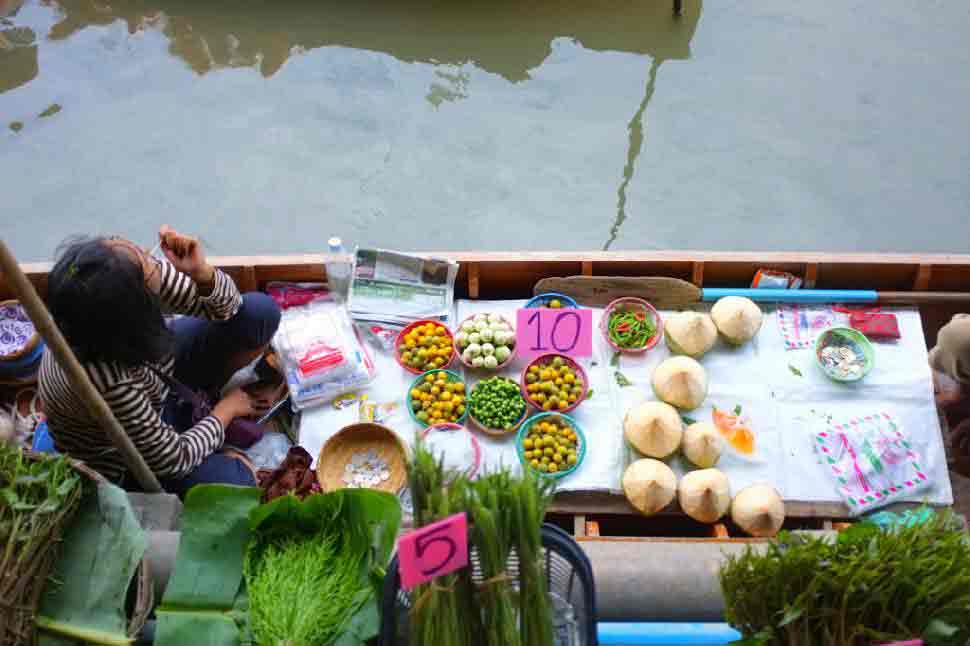 Bang Khu Wiang Floating Market
It is another wonderful and traditional Thai floating market without the touristy push that is Bang Khu Wiang. Not to mention the availability of Monks who arrive by boat in early morning on their daily Tak Baat and a variety of farm fresh produce to offer. Reaching here is easy as you can rent boat from Chang Pier in Bangkok; while ask to be taken to Noi Khlong Om-Bang Khu Wiang Floating Market. If you are looking for affordable options, you can catch a boat from Wat Chalo Pier for some more time ride to Bang Kruai that runs after 15 minutes.
Bang Nam Pheung Floating Market
It is also a wonderful market called as Riverside Market where you will find boats perked along the banks with the most of the stalls on solid ground. Success of this market has been persuading people in almost every village for its own verison. Bang Nam Pheung is only few kilometres east side of Bangkok but it is not easy to find or to get to without your own shipping. As a consequence of this it has remained fairly low-key and the nearness to Bangkok makes it a great way to step away from the hectic town and step right into village life.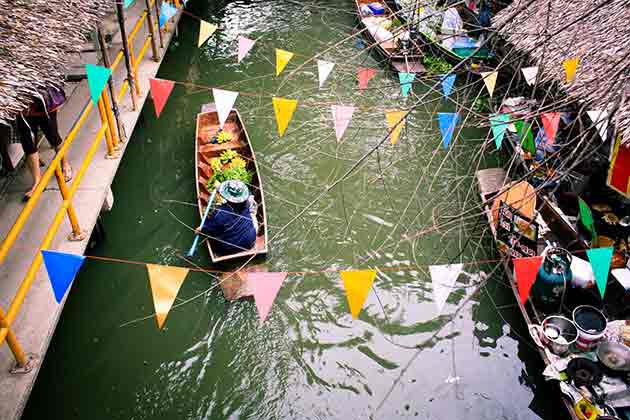 Khlong Lat Mayom Floating Market
In addition to the aforementioned markets, Khlong Lat Mayom is one of the three floating markets located close to Bangkok with no more than twenty kilometers from town. It is easy to get to by taxi from Wongwian Yai. It is nothing like the enormous touristy Damnoen Saduak or the crowded Amphawa. It has charm and authenticity of a local market and you might be one of the only foreigners around to enjoy wonderful local market during your tour here. You can spend a couple of hours here then move to the largest Taling Chan floating market, just a couple of kilometers away.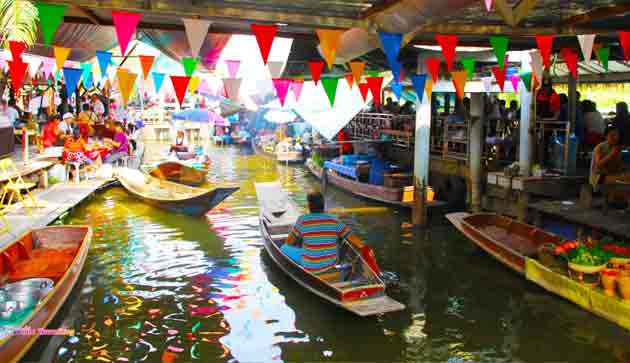 Taling Chan Floating Market
It is very close to the Bangkok and making a nice weekend trip – if you are in for a new shopping experience there. You will see here canals around the market that can be visited through boat where small villages are revealed along the way.
There are different other markets that you will see here according to your choice and in your budget during your holidays. For this, what all you have to do is book the right Bangkok tour package and enjoy fun and pleasure unlimited in a way like never before. Such floating markets are also ideal to buy vegetables and fruits in the local price and without doing so much bargaining. If you are during weekend in Bangkok, you will find locals doing shopping here for day to day items and need some budget check out crazypaydayloans.co.uk. It is best way of knowing about the local people's lifestyle.
Amazing Things to Do in Bangkok Click Here