Bangkok – the pride of Thailand tourism is also known for having some of the wonderful and largest shopping malls that keep tourists busy in shopping for branded to locally crafted items. During your attractive holidays in Bangkok, don't miss the chance of exploring some of the best malls, most especially top 10 shopping malls that are known for offering the best shopping experiences you have ever enjoyed. Swishcash.co.uk they will provide you some of the most affordable products from big brands at very reasonable prices. They have everything from the trendiest to funkiest, upscale to specialized and a lot more. Your tour guide in Bangkok will guide to you reach almost all the shopping malls that are in the list of top 10 shopping malls.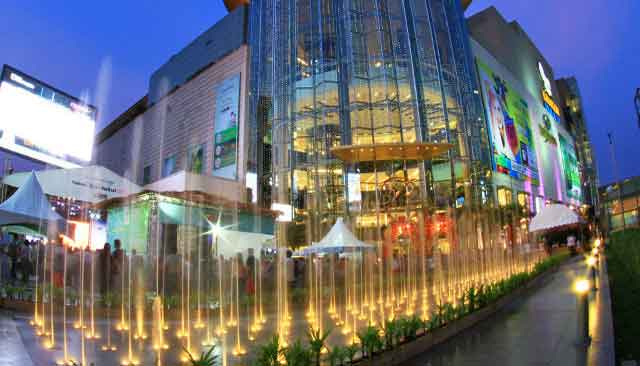 Siam Paragon, Siam, Nearest BTS: Siam (Open: 10:00 – 22:00)
Bangkok is famous for its wonderful attractions that are sure to keep you surprised and persuade you for holidays again. Siam Paragon is one of the wonderful malls making its distinctive position in the list of top 10 shopping malls in Bangkok. This glass and steel luxury megamall is a perfect place to stay for well-heeled folks who love to spend their leisure hours in a memorable way. Here, you will get everything from high street fashion to high-tech gadgets and from home décor and exotic sports to a variety of other accessories ad products. Not to mention 16-screen paragon Cineplex along with Kinokuniya bookstore, gourmet cafes and restaurants and Siam Ocean World Aquarium.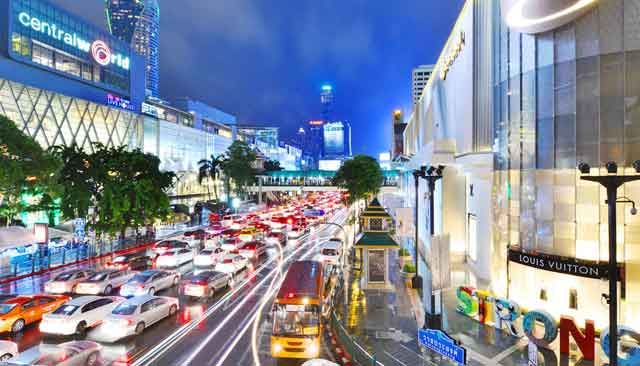 CentralWorld, Siam nearest BTS: Siam, Chidlom (Open: 10:00-22:00)
When it comes to listing top 10 shopping malls in Bangkok, your list will go incomplete without adding CentralWorld Siam that starts showcasing the luxury of beautiful cosmopolitan city from early 10 AM to 10 PM. It is known for having the collection of shops and entertainment outlets catering to the modern lifestyle. It is a paradise for youthful dynamic and shopping passionate where large stores from big brands will persuade you to purchase something. This wonderful mall has been focusing on top brand that include MNG, Izzue, Timberland and different others. Not to mention other highlights of the mall that include 15-screen SF World Cinema, open ice-skating ring, toys, and more than 100 restaurants and cafés.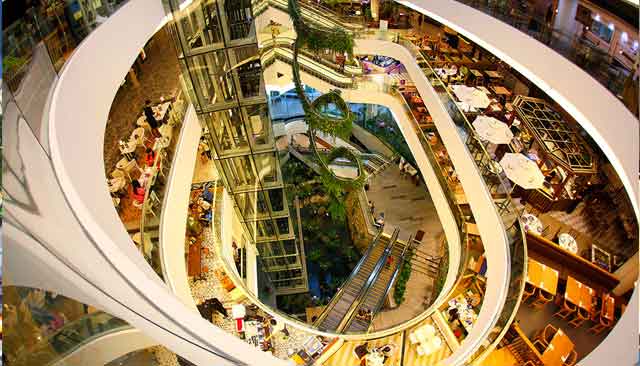 EmQuartier, Phrom Phong Adding Diversity in Brands and Styles
Spreading out over 4000 square meters of floor space, the wonderful mall is like a glossy magazine that comes to life. This beautiful mall is known for housing a whopping 400 label. Here, you will get some of the top brands ranging from international brands to something unique styles and accessories from Thai designers. Here, you will also find a number of fancy restaurants and direct access from Phrom Phong BTS Skytrain for the most convenient luxury shopping experience on Sukhumvit Road.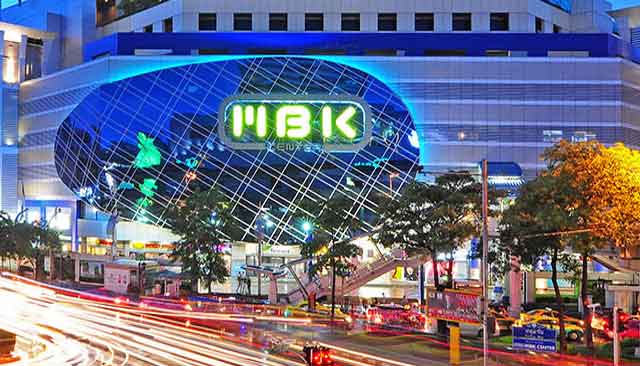 MBK, Siam near National Stadium
With some approx 2000 shops occupying seven floors of retail spaces, MBK is a well known shopping mall among tourists who come to celebrate leisure time in Bangkok. What attracts tourists here is the pricing; while availability of diversity of its collection of products, particularly mobile phones, photo equipment, video games, luggage, street wear and gold ornaments provide you reasons for more shopping and spend more time here. A large food court, SF Cinema and some amazing lifestyle experiences will keep you busy for more.
[ Get attractive Bangkok Tour packages starting only @ Rs. 18,999 ]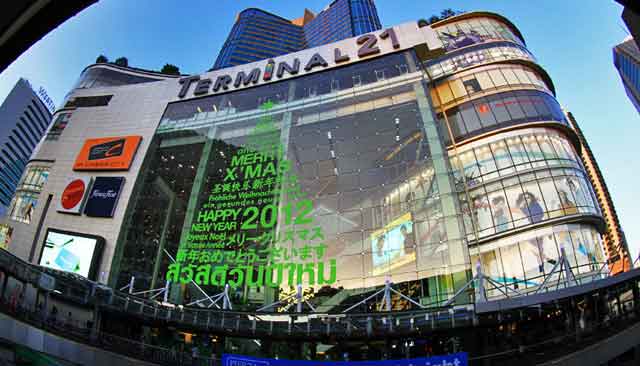 Terminal 21, Sukhumvit Road near Chidlom BTS
Terminal 21, as the name suggests, is a wonderful shopping mall that brings the dream of travelling the world to downtown in Bangkok with its cutting-edge concept – placing several world-famous cities under one roof. You will also find yourself wandering around a maze of shops in Tokyo City, strolling down London's Carnaby Street and bagging a bargain in an Istanbul zouk. Not to mention the way of shopping for something to fill your growling stomach at the Fisherman's Wharf in San Francisco.
Central Embassy Shopping Mall near Ploenchit BTS
Being first ever ultra-luxury lifestyle mall, Central Embassy has been boasting an impressive collection of high-end designer store, swanky cinema screens, fine-dining restaurant, and an extravagant six-star hotel. The beautiful shopping mall has been built on the grounds of former British Embassy. This million dollar project has been showing the capital's status even further as one of the world's leading shopping destination.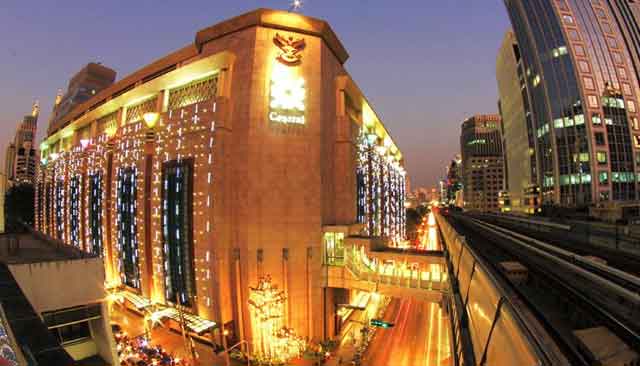 Central Chidlom, Chidlom-Ploenchit
Another name in the top 10 shopping malls in Bangkok, the beautiful Central Chidlom mall has been offering a pleasant shopping experience that is known for simply layout – easy to figure out. For those who are wandering in all directions just to find what they need, they have a better opportunity of fulfilling their desire. From cosmetics department to outsized clothing for towering Westerners, women's fashion to men's accessories and the trendy food court concept called Food Loft, there is a lot more to keep you surprised and spell bound.
Pantip Plaza, Pratunam near Chidlom BTS
Being one of the top and most popular malls in Bangkok, Pantip Plaza is the pride of malls – counted as the top IT Malls; where entry is dedicated to computers, IT gadgets and cameras. Here, you will find the top camera stores and stores for electronic and digital gadgets. Some of the camera shops hold hard-to-find lenses and accessories. What attract here shoppers the most is price and diversity of products available, although the quality is sometimes questionable, particularly with software and computer parts. The best recommendation is to carry an expert friend or teach yourself on the products before you go.
Platinum Fashion Mall, Pratunam near Chidlom BTS
Platinum Fashion Mall is a dedicated mega mall for clothing and fashion accessories that takes the flea market notion indoors, in air-conditioned comfort. It is extensively popular amongst office workers and university students in search of casual wear to the latest trends in women's fashion. The best part is the wholesale price, if you buy in mixture.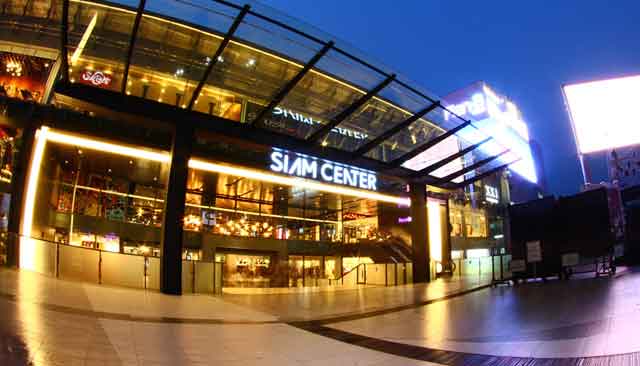 Siam Center, Siam
Re-started in the year of 2013 with different kind of shopping experiences to Siam, The beautiful center has been offering more than 200 international and Thai brands that include the boutiques of some brilliant promising local designers as well as famous Thai couturiers. The beautiful mall is wonderful and known for tranquility that will surprise you and persuade you again and again.
During your holidays, you will get the best quality products and brands items at discounted prices. You have to enter the world of shopping according to your choice and leave rest of the work on stores.
[ Check out our amazing Thailand Package starting only @ Rs. 31,999 ]